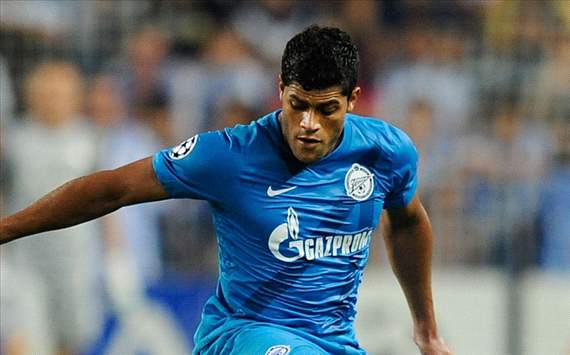 Zenit St Petersburg's largest fan group have appealed to the club to not sign black or homosexual players.
The Russian giants are the only major side in the country to have never had a footballer of African descent on their books, and this is something that 'Landscrona' are keen to see upheld.
"We're not racists, and for us, we see the absence of black players at Zenit as an important tradition, which emphasises the identity of the club and nothing more," the letter, which was also posted on the fan club's website, reads
"We only want players from other brotherly Slav nations, such as Ukraine and Belarus as well as from the Baltic states and Scandinavia.
"We have the same mentality and historical and cultural background as these nations.
"We, as the most northern club of major European cities, have never been linked with Africa, nor South America, Australia or Oceania.


"We have absolutely nothing against the people of these or any other continents, but want Zenit players to be united in spirit and mentality.

"We do not understand the difference in public attitudes towards this notion. Why is Athletic Bilbao's approach, which involves only using players from their region, not accused of being racist?

"We fear that the club will take the path of Manchester City, Arsenal or Anzhi Makhachkala and many other clubs who buy players from around the world and no longer represent their region or city.

"

For us it is important to preserve Zenit's identity.

We do not want to be another beautiful and perhaps even profitable football project.



"Zenit has a special meaning for the residents of St Petersburg and the region; the city and the word 'Zenit' have become synonymous with each other.
"
The letter also called for the club to reject "sexua l minorities", "football crooks", those who have publicly announced their addiction to cigarettes or alchohol, as well as calling for the introduction of a wage cap.
It also suggested that players "blackmailing" the club in order to get a good financial package should be sold immediately.
Ex-Zenit striker Alexander Panov has taken a dim view of the demands, and believes that fans should not have a say on transfers or club politics.
"If we don't have enough good players from St Petersburg, then what should the club do?" he asked.
"All clubs around the world have black players. If they are absent from Zenit it's Zenit's problem. I don't think fans should demand the club buy or don't buy certain players.
"The fans have the right to go to the stadium or stay home," Panov concluded.
Luciano Spalletti's side have endured a tumultuous few months, with a number of established players unhappy about the wages being paid to su mmer signings Hulk and Axel Witsel, who joined in a 90 million double deal.
And Brazilian attacker Hulk recently hit out at his coach after being substituted in a Champions League match against AC Milan, admitting that he could leave the club in January.
The former Porto man had previously stated that he was adapting to life in Russia, although he had been the target of a 'bomb' prank by angry fans back in September.