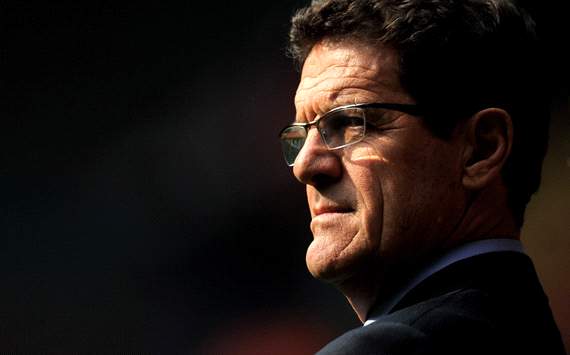 Russia head coach Fabio Capello is relishing the opportunity to face former side England at the 2014 World Cup in Brazil.

The 66-year-old was speaking at the Football Association's 150th anniversary celebration on Wednesday, in his first visit to England since his sudden resignation as manager in February 2012.
However, the decorated Italian insists that there are no hard feelings between himself and the English governing body and he hopes his Russia side are drawn against the Three Lions in Brazil.

"We are all friends now. It was very good to come back and see the people I used to work with. I have no problems with anyone," Capello told reporters.
"I like coming back to London. I have a house here and I have been back a few times.
"I can't talk about what happened with England, but I am enjoying my life with Russia and my hope is that we play England in Brazil at the World Cup. That would be very good."
Meanwh ile, chairman of the FA, David Bernstein, reiterated that relations between Capello and the governing body are positive, despite the rift over John Terry's racism row that led to the Capellos departure.
"It was very nice to see Fabio again and it was tremendous to see him here talking with Roy Hodgson," Bernstein said.
"When he left I made the point very clearly that it was done with dignity and professionalism. I respect him enormously. There was a great deal of warmth when we met each other, which is the way it should be.
"It wasn't the best day for anybody when he left. It's always the same when you part from somebody; there's a long gap and you don't quite know how things are until you get back together again. But we've done it now and there was no tension."