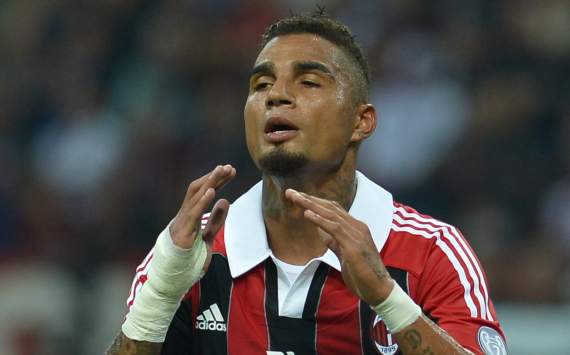 COMMENT
By Kris Voakes Italian Football Writer
It is not the first time it has happened on an Italian football field, and no betting man would suggest it will be the last. On Thursday, a group of Pro Patria supporters bellowed racist gestures towards three black AC Milan players. The Rossoneris decision to walk off and bring an early end to the winter friendly was a no-brainer, but it was refreshing nonetheless to see them do it.
It took just 26 minutes before it had become too much for Kevin-Prince Boateng, who halted a run down the left flank, picked the ball up and volleyed it in the direction of those ignorant souls who had mercilessly heckled him and his colleagues. After a quick consultation between the irate Boateng, his Milan team-mates and the match referee, the Ghanaian stripped off his shirt and headed for the tunnel, with everyone else following.
The incident begs a series of questions, with the mos t pertinent being as to why, in 2013, we still have racists blighting our societies and our football experiences. Another is how on earth it has taken so long for a game to be stopped as a result. Milans gesture was a magnificent one, but now it must be used as a precedent.
This correspondent has been present at football matches, in Italy and elsewhere, and there have been, at times, incidents of monkey chants or similar being directed at black players. As recently as November, I was present as Panathinaikos Quincy Owusu-Abeyie was subjected to such treatment every time he touched the ball against Lazio at the Stadio Olimpico in the Europa League. Samuel Etoo was targeted away to Juventus in 2011 when playing for Inter, with songs likening the striker to oft-victimised African beggars on the local transport network.
The incidents are far too numerous to mention all of them, but what is most concerning is the complete lack of attention given to each one. At grounds where such disgraceful scenes occur, fellow supporters simply turn the other cheek, players of all races and backgrounds just get on with the game, TV commentators continue to report the events on the field and give no mention to the bad news emanating from the stands. What Milan did on Thursday needs to be taken as an example of a future vision.
The Rossoneri coach Massimiliano Allegri could not have been more right in his summing up of the situation after the abandonment. Italy has to improve in this regard, and become a more civil, educated and intelligent country, he said, but the bel paese is not the only land that needs to be cleaned up when it comes to racism.
England, Spain, Russia and many other countries have seen such regrettable occurrences on their shores too, but not since Messinas Marc Zoro stormed off against Inter in 2005 have we observed actions such as those seen from Milans players in Busto Arsizio.
With a small four-figure crowd present on Thursday, the news became big enough. Now the reactions need to be the same in competitive fixtures. Imagine the pressure that would build up on clubs, authorities and fan groups if a title decider or a cup final was halted early and the results awarded on the strength of disorder in the crowd.
Some have argued that it is unfair on the well-behaved majority if they dont get their moneys worth, but continued walk-offs would surely help to encourage people to report and turf out the racist troublemakers. The protagonists will continue to believe they can get away with it until they finally become suitably ostracised for their unbearable behaviour.
Piara Powar, executive director of the FARE (Football Against Racism in Europe) network, has called for the Italian Football Federation (FIGC) to take strong action.

"We salute Kevin-Prince Boateng for his act ions and his team-mates for their support," said Powar.

"Italy, as much as any country in Europe, has a serious problem of racism. Football infrastructure is in need of renewal and at serious odds with the changing nature of Italian society.

"We look forward to strong action by the FIGC."
Boateng and Milan need to be celebrated for their actions, but now we all have to take their lead. More players need to refuse to continue, more authorities need to tackle the problem, and more fans need to seek out stewards and police as soon as they hear even the slightest of racist slurs. Enough pointing of fingers, enough asking others to sort it out. Lets sort it out together.
Milan have made the first step down the road, now the rest of the football fraternity must follow.
Follow Kris Voakes on