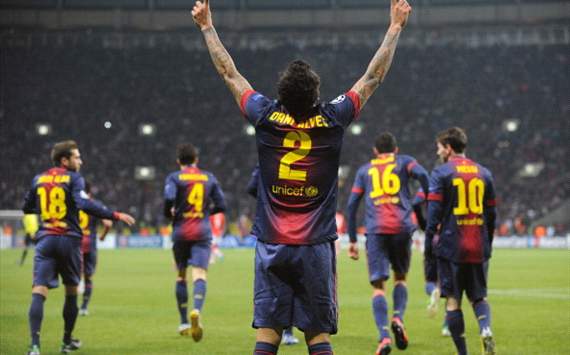 Dani Alves praised Barcelona's defensive performance following their 3-0 Champions League win over Spartak Moscow on Tuesday evening.
The right-back opened the scoring in the 16th minute before Lionel Messi put the match to bed with two more goals, but Alves was particularly pleased with his side's first clean sheet since their 1-0 victory over Valencia on September 2.
"Sometimes were exposed at the back when we all attack at the same time, but we defended their counterattacks well. We did a pretty good job," the Brazil international was quoted as saying on the official Barcelona website.
"It had been a while since we'd kept a clean sheet and were happy that we managed to do that against Spartak. Im especially pleased for Vctor [Valdes].
"We played really well going forward and we put in a good defensive performance, but the important thing is how the whole team played."
The
Blaugrana
sit atop of Champion s League Group G with 12 points from five games, and have a five-point lead over Celtic and Benfica, who are level on points in second and third spot.