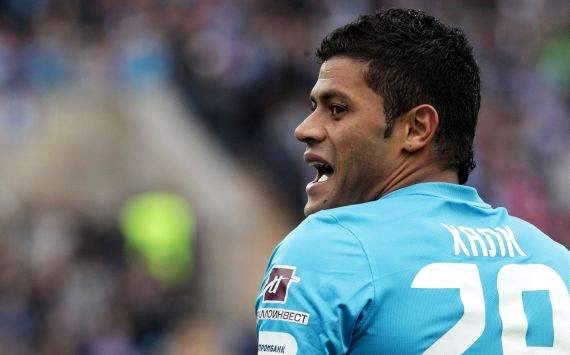 Zenit St. Petersburg's recent signing Hulk has spoken openly of how, if he were given the chance, he would vote for Lionel Messi to win the 2012 Ballon d'Or.
The forward made a lucrative switch to the Russian side earlier in the season following an impressive spell at Porto, with his displays meriting him a place on the FIFA/FIFPro World XI shortlist.
In an interview with
Fifa.com
, the 26-year-old claimed that he would pick himself to play in such a team, while also giving his opinion that Messi should pick up the Ballon d'Or for the fourth time in a row.
"In my mind the best player around today is [Lionel] Messi," said Hulk.
"Cristiano Ronaldo is a match-winner too and scores a lot of goals, and when you talk about the best player in the world its between those two, though my vote would go to Messi."
When asked why he believes the Argentine should win the award, he said: "Hes got a great team by his si de but he also does things differently.
"The way I see it he deserves to win again, not least because of the amazing number of goals hes scored this season. He scores more than anyone."
The former Tokyo Verdy striker then cheekily revealed that he would include himself in a FIFA/FIFPro World XI team, adding: "There are so many good players around, and friendship comes into it too.
"All I know is that Id put Messi and Ronaldo in my team and eight others. Id also have Petr Cech in goal and Id play myself too. The three of us up there in the front line: Messi, Ronaldo and I."
Hulk also gave his thoughts on who should win the Fifa Puskas Award, which recognises the best goal of the year.
"Well, maybe it wasnt the most stunning goal but Id go for Ramires cracker against Barcelona at the Camp Nou. It was a fine strike and, above all, a decisive one," he concluded.