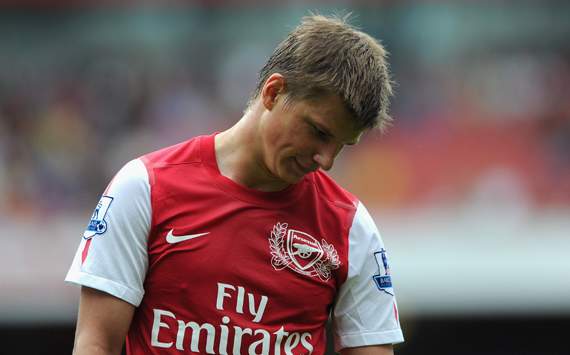 ANALYSIS
By Alex Young
Cast your mind back to 2008 and Andrey Arshavin was one of the most sought-after playmakers in football. His searing displays during Zenit St Petersburgs successful Uefa Cup run ignited whispers around Europe, but his displays for Russia at Euro 2008 completed the midfielders rise in prominence.
After serving a two-match suspension for the opening group games, Arshavin returned to his recognised second-striker role to set up the first goal and score the second as Russia ran out comfortable 2-0 winners against Sweden. A repeat showing in the quarter-final against Netherlands saw his country advance to the semi-finals, where they were beaten by eventual winners Spain.
But the two man-of-the-match displays were just the start for Arshavin, and a number of Europes elite clubs were to come calling.
Zenit were, understandably, not prepared to let their star man g o. In the previous two seasons Arshavin notched 24 goals and 38 assists in 82 appearances and the club subsequently rejected offers from both Barcelona and Tottenham, holding out for a 22m fee.
In the end, the then 27-year-old had to wait until the final hour of the 2009 January transfer window, amidst an uncharacteristic snow storm in Hertfordshire, to make the switch to one of the clubs sat at Europe's top table as Arsenal agreed a reported club-record fee of 15m.
For Zenit and Russia, Arshavin was deployed either as a second striker in a 4-2-3-1 formation or on the left of a front three in a 4-3-3. He was pushed further wide and deeper at Arsenal, with Robin van Persie or Nicklas Bendtner taking a lone striker role as Cesc Fabregas supported, so a position much closer to the touchline was thrust upon him.
However, the Russian hit the ground running at the Emirates, notching six goals and creating seven in his first 12 Premier League games including the incredible four-goal haul in the 4-4 draw with Liverpool at Anfield to boost his new club's flailing bid for a top-four finish.
However, Arshavin never repeated those lofty first impressions. His continual presence on the wing was detrimental to both player and team alike.
One of the midfielder's key attributes is his dribbling ability. This is what propelled him above the parapet for Zenit and Russia. Without question, Arshavin was far more productive when operating directly behind one or more strikers.
But, playing on the wing forced Arshavin to cut inside to look for a shot rather than enjoying the more direct passage to goal he was used to. Arsene Wenger was reluctant to accommodate Arshavin in his desired role due to the presence of his two key personnel; Fabregas and Van Persie.
Moving Arshavin inside would have crowded the centre of the pitch and restricted the influence of the Spaniard by increasing the atte ntion of opposition defenders onto the pair, especially with Van Persie opting to play deeper than a normal No.9.
Wenger even admitted as much following Arsenal's 6-1 demolition of Coventry City in the Captial One Cup in September a game in which Arshavin scored twice and assisted another.
He told reporters: "Arshavin's best position looks to be behind the striker now because thats where his vision, the creative side of his game, can be very efficient.
"When he has to work on the flank it is sometimes working against him because he has to work too hard up and down. But when hes central he always had an influence on the game."
Unfortunately, that realisation comes three-and-a-half years too late.
But all the blame cannot be placed on Wenger. Arshavin's frustrated reaction to his fading star and influence both domestically and on the international stage was alienating fans and further depleting his stock.
Arsh avins reputation in his homeland has particularly nosedived, where he has gone from talisman to a seemingly lazy, egotistical big-head.
A popular Russian joke epitomises that notion: Arshavin comes home late, and his wife asks him where he was. "I was playing football," he says. "But your shirt is completely dry," screams the wife. "Well, I was playing for Russia," Arshavin replies.
Four years on from his stand-out displays in Austria and Switzerland, Arshavin and his Russia team-mates failed to advance from the group stage at Euro 2012. When faced with claims that the team did not appease the fans' expectations, the captain replied: "How is it our problem? That's their problem."
So what is the reason behind Arshavin's downfall? His attitude.
Arshavin should have known that moving to a bigger club would mean he would no longer be top dog anymore. He would not be able to command the same pull in London as he did in Saint Petersburg.
Once at the Emirates, the midfielder seemingly failed to cope with the reduced dependency and the consistency of his performances depleted in line with his minutes on the pitch. This, in turn, further reduced his ability to contribute. It was a vicious circle and Arshavin did not have the will to correct his failings, instead he continued to dwindle.
Perhaps a change of scenery will be the push he needs to shine again and, as exclusively revealed by
Goal.com
, a potential move to interested parties Fulham and Zenit could be the answer.
Follow Alex Young on