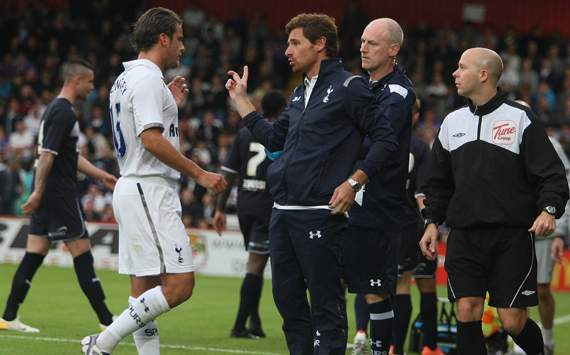 Rostov midfielder David Bentley believes Andre Villas-Boas can succeed with Tottenham this year, but is unsure whether he will return from his loan club to play a part at in the Portuguese's plans.
The 28-year-old midfielder joined the Russian side on loan for three months in September in order to play first-team football following an unfortunate series of injuries while at White Hart Lane.
And Bentley suggests while he is ultimately unsure where his future lies, Spurs are in good hands with Villas-Boas - who can lead the club to success in the wake of Harry Redknapp's sacking.
"I respect Villas-Boas for taking the Spurs job," he told the
Daily Mail
. "He had a tough time at Chelsea and Harry [Redknapp] was always a difficult act to follow. But I think it might happen for them this year."
As for his own role at Spurs, Bentley remarked: "I don't know what the future holds. Football can change so fast. Whether I am a pa rt of that, I don't know."
Rostov currently sit 14th out of the 16 teams in the Russian top flight, but Bentley feels the loan move has been a good experience for him - despite the presence of tanks and snipers to protect players during an away trip to Chechnyan side Terek Grozny last weekend.
"It was definitely something I've not experienced before. We flew into Chechnya just 45 minutes before kick-off, went to the stadium, ran out the tunnel, played the game and then turned back to the airport," he continued.
"The coach ride in was something else. There were tanks on the street, army snipers at every cross-section and a four-car convoy surrounding the team coach.
"I enjoyed it in a strange way, I knew they were there to protect us. Being a London boy who hadn't seen anything like that, I just found myself staring out the window in amazement. I have a much better appreciation for my own country now. We really don't realise how luc ky we are."
Despite featuring in a number of Spurs' pre-season games, Bentley was allowed out on loan, and while he was disappointed by the decision, he is determined to prove himself while in Russia.
The winger says he has learnt from his past errors as an exuberant youngster after making a 17 million (21m) move from Blackburn to Tottenham.
He added: "I thought I was James Dean in the day - if I saw a cliff, I'd want to jump off it," he reflected. "I think being a bit more boring would have helped me earlier in my career.
"I used to love players like Gazza [Paul Gascoigne] and Eric Cantona for their personalities as much as what they could do with a football. But there is so much pressure in the game now, I don't think top players or managers have a laugh and joke any more.
"Whether that has improved the game or is killing the game, I don't know."