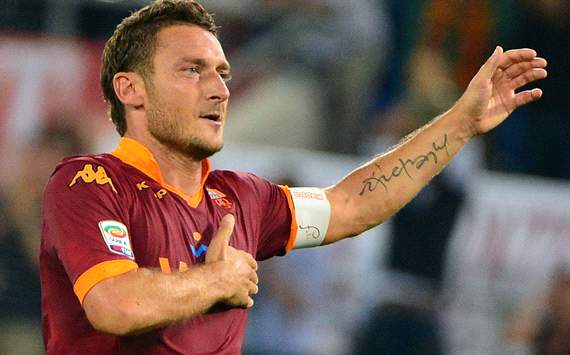 Roma veteran Francesco Totti looks set to end his career at the Stadio Olimpico after reportedly turning down a move to play abroad.
The 'King of Rome' met with Russian Federation vice-president Nikita
Simonyan
, who attempted to lure Totti to play in the Russian Premier League.
In
Corriere

dello

Sport
, Simonyan reportedly claimed: Im certain that you dont have money issues, but you should know that we are ready to pay you a lot in order for you to come and play in our country."
If you phone me then Ill be able to find you a club, who will sign you with their eyes shut, within the space of 24 hours."
The clubs in question were said to have been CSKA Moscow and their rivals Spartak Moscow but Totti expressed that he has no intention of leaving his boyhood club.
The 36-year-old, in his 16th season at the
Giallorossi
, became the third highest Serie A goalscorer of all-time after scoring in the 4-2 win over Genoa on Sunday, his 217th league goal for Roma.