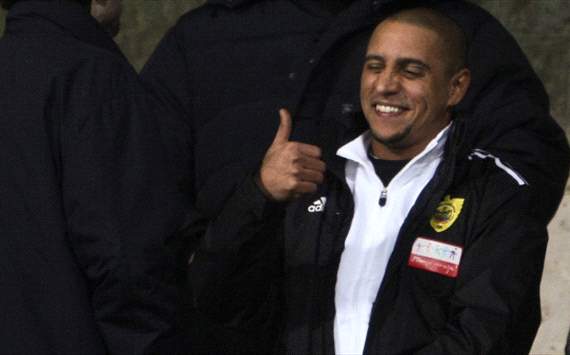 Anzhi Makhachkala director Roberto Carlos has expressed his interest in becoming a coach in the future.
The Brazilian, who made 125 appearances for his country, ended his career at the Russian club last season with a proud record of three Champions League trophies and a 2002 World Cup winners' medal.
Although enjoying his work as a director for his club, the 39-year-old is now flirting with the idea of taking on a more hands-on role.
"Its great to be a director and take on the responsibilities that come with it, but my business is down there on the touchline. Thats what I want," he was quoted as saying on
Fifa.com
.
"Ive been travelling with the team and working side-by-side with the coaches, but Im still taking part in training sessions out there on the pitch. Its a new life, one that Im enjoying a lot. Were coming to the end of 2012 though, and I need to get my coaching licence."
The former wing-back the n explained his relationship with current Brazil coach Mano Menezes and thanked him for passing on a wealth of coaching knowledge during his spell at Corinthians in 2010.
"It was a great experience because he taught me a lot - how to handle players, how to talk to the big stars. He looked on it like a friendship, but he was always responsible about it too," he added.
"I remember him coming up to us and being very straight from day one. He said he needed our help to do his job, and from that point on everything worked just fine."
When asked about his stance on leadership in the national team, he singled out Kaka and Thiago Silva as the two most important figures in guiding the side, while advising youngster Neymar to "focus on his football".
"Every team needs leaders, but not just one or two. You need a few of them, like we had in the 2002 team. Its for the likes of Thiago Silva and Kaka to do that."