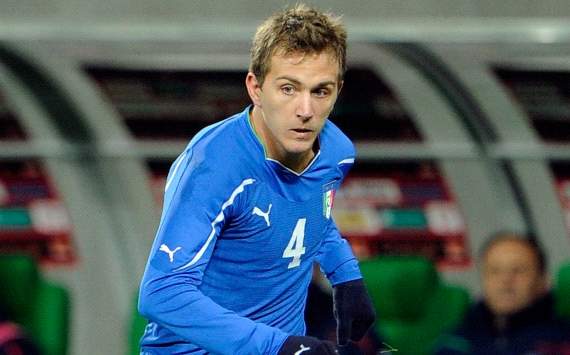 Domenico Criscito has spoken out about the time when his room was raided at the Coverciano training ground in Florence on the lead up to this years European Championships.
The 25-year-old was one of a number of Italian players who had been investigated in connection with a betting scandal which threatened to overshadow Italian preparation for the tournament. Criscito withdrew from the squad while he was being investigated.
Speaking to Tuttosport about the raid he said: Now that a few months have passed from that crazy morning of May 28, I can think about everything that happened with a clear head and less of an emotional haze.
I just have to shake it all off and forget the past. I am concentrated only on the present and thefuture.
Criscito was only recently cleared of any wrong doing in the scandal and made his comeback for the national side in their 3-1 win against Armenia in a World Cup qualifier.
The former Genoa player spoke about the feeling he felt in returning to the national set-up for the Azzurri.
He said: Being back with theNazionalewas a unique sensation. CesarePrandelliscall really warmed my heart and I felt relieved.
Criscito played senior football in Italy from 2003 until 2011 when he joined Russian side Zenit St Petersburg for a fee believed to be about 15 million and says there are particular aspects of Italian football he's relieved not to be involved in.
He said: If theres something I really do not miss about Italian football then its the controversy. Excessive, repetitive, boring, tiring and even nauseating at times.
We should go back a few years and focus more on the football, less on the talking."
Criscito was born in Cercola in the province of Naples and once played for Juventus and was careful not to choose a winner when asked about Saturday's clash between Napoli and Juventus while poking fun at his recent controversy.
I am sure it will be a splendid match between two of the strongest teams in Serie A. The Bianconeri are the favourites for the Scudetto, while the Partenopei play very well. Lets not forget last season the only ones able to beat Antonio Contes men were Napoli in the Coppa Italia Final.
He added: I wont make a prediction, though. If I were to get it right, I might get another dawn raid by police!