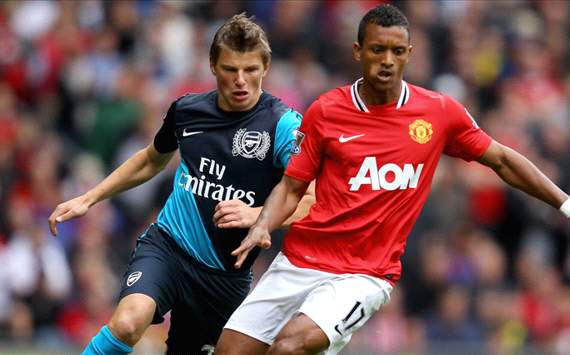 Arsenal boss Arsene Wenger has praised Andrey Arshavin's passion for football, putting his lack of involvement in the first-team squad this campaign down to the club's strength in depth.

The 31-year-old winger has made just one appearance in the league so far this season, coming off the bench as a late substitute during the 0-0 draw with Sunderland on the opening day.

And Wenger conceded that it was normal for a player to be unhappy with seeing so little playing time at this stage of his career, before revealed that the Russia international be involved in the side's upcoming League Cup game against Coventry City.
"I have personally a great respect for Andrey Arshavin because sometimes some wrong ideas are circulated about him - that he doesnt care, but its completely the opposite," Wenger told Arsenal Player.

"Hes a 200 per cent professional who works very hard in training every day.

"At the mom ent hes a victim of the high level of competition that exists for places. He has a huge respect from everybody in the dressing room, and especially from the staff.

"I feel hes unhappy that he doesnt play because deeply he loves football and he practices every day with 100 per cent commitment. Im happy to give him some competition on Wednesday night.

With concerns to the make-up of his side for the cup game against the League One outfit, Wenger revealed that he expected to integrate some of the younger members of the squad at the same time, granting them some much-needed playing time in the process.

"Hector Bellerin, Kris Olsson, Serge Gnabry, Nico Yennaris and Craig Eastmond could be [involved], Wenger admitted.

"All these players could have an opportunity to play. Ignasi Miquel will play. We will have a good mixture of experience and professional top-class players.

"We want to put out a talented side that has a good chance to win the game. We will give a chance to some players who have not played as many games recently.

"The players that did not play on Sunday [at Manchester City] will get a chance and its a good opportunity for them to show they can do well."