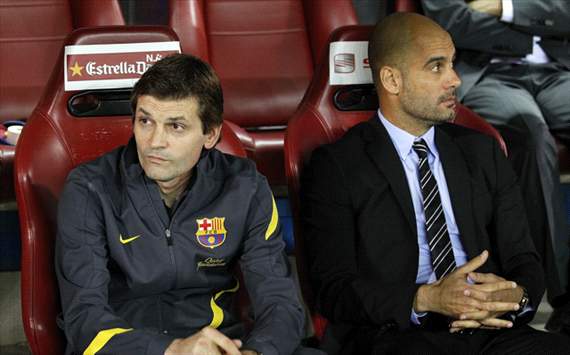 ANALYSIS
By Ben Hayward Spanish Football Writer
It seems a long time ago now. Barcelona beat Wisla Krakow 4-0 in a European qualifier at Camp Nou on August 13, 2008 to all but confirm the Catalans' place in the Champions League for 2008-09. It was Pep Guardiola's debut as coach and the former midfielder went on to win 14 trophies in four seasons at Camp Nou. Little did we know it at the time, but history was in the making.
Now it's Tito's turn. Vilanova was sat alongside Pep as he made his European bow and accompanied his friend all the way, apart from taking a few months off to recover from surgery to remove a tumour. Just over four years on from that Wisla win, the 44-year-old is the man in charge now - and he is determined to start with a victory in the continental competition.
So while the players were given a day off, Vilanova spent Monday - his 44th birthday - watching videos and analysing Barca's first grou p rival, Spartak Moscow, ahead of Wednesday's clash at Camp Nou. He wants everything to be just right for his first European night.

Barca have been handed what looks like a straightforward sector in this term's Champions League (Benfica and Celtic make up Group G) and Tito's team will be expected to beat Spartak at Camp Nou with consummate ease. But Vilanova was maintaining the same caution preached by Pep as he spoke on Tuesday. "In the Champions League," - he said - "you can be punished for one mistake."
It may seem a dull discourse from a man lacking the charisma and charm of his predecessor, but Vilanova is not the least bit interested in media attention - and he is happy to leave the dazzling displays to his players.

Barca lost out narrowly to Real Madrid in the Spanish Supercopa earlier this season, but La Liga has been an altogether different story. Four fixtures, four wins and an amazing eight-point advantage over Jose Mourinho's men already - it's an impressive initiation. Now, Vilanova will look for his side to carry that form across to the Champions League.
Softly spoken and much less animated than Guardiola, Vilanova has won the respect of the Barca dressing room with a series of difficult decisions since taking over in the summer. It was his choice to opt for a pre-season in Europe, not in the United States or Asia, as he wanted his side to enjoy optimum preparation for the current campaign. Tito also chose to leave out Lionel Messi against Hamburg in a summer friendly, a decision which proved unpopular with the Germans and saw Barca miss out on 400,000 in appearance money. But he wanted no unnecessary risks. And after returning from international duty, the Argentine was left out again at the weekend. In fact, with the exception of Victor Valdes, the whole squad have been rotated and the new coach is seen as both firm and fair by his players.

Tactically, they have never doubted hi m and the switch to 4-2-3-1 at Osasuna saw Barca overturn a deficit when it looked as if they would lose out in Pamplona. Save the away-goals loss to Madrid, which was more down to individual errors than poor planning, the Catalans have been almost flawless so far under their new leader. And quietly, success is breeding confidence at Camp Nou.

Spartak boss Unai Emery told Marca in an interview this week that his side would need 'divine intervention' to win in the Catalan capital, but Vilanova remembers how Barca surprisingly lost out at home to Rubin Kazan in the group stages in 2009-10 and is also wary of the Basque coach, who caused problems for Guardiola's side on several occasions with astute tactical variants in his time at Valencia.

The football, then, may be much the same as it was before. Slowly but surely, however, Vilanova is stamping his personality on this Barcelona side. He cannot compete with Guardiola, he has already said that, b ut the new man's European vision starts now. As the Catalans set off once again on the road to Wembley, it's very much Tito's team now.
Follow Ben Hayward on