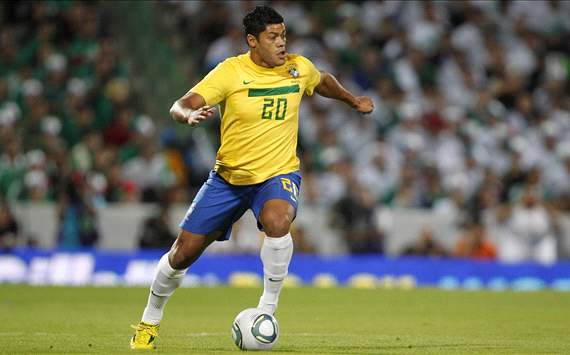 COMMENT
By Rupert Fryer
As Leandro Damiao brought down a lofted ball into the channel, Hulk immediately made his way over, instantly turning a straight line between two of his team-mates into a triangle. And as the ball arrived, he made his decision he went for it. A step-over and a burst of acceleration took him away from Micah Richards. As they approached the byeline, Hulk checked his run just slightly, forcing Richards to do so, and then burst forward once again. A second step-over and subtle push of his right foot took the ball beyond the defender. Upper-body strength allowed him to cut across. Once he had, a penalty was almost inevitable.
It was ostensibly little more than a piece of bad defending and a moment of neat forward play in what was merely an Olympic warm-up match. But put into the context of Hulks progression as a footballer, it felt slightly more significant. Almost from the moment the Brazil international left the J-League for Porto from in 2008, he looked like he had it all: hes huge, built more like a shot put thrower than a footballer; quick, over both the first yard and the next 30; has a formidable left foot equally capable of smashing one in from 40 yards as he is delicately chipping one from 15; and extremely technically gifted, all too happy to display his array of tricks whenever he finds himself one-on-one with an opposition defender.
"It is hard to find a player with his characteristics: strength, power, he winsalmost every one-on-one situation and can also decide a match with his shots from medium and long range," said former Brazil coach Dunga earlier this year. Zenit were suitably impressed to shell out a reported 40 million on the 26-year-old on Monday, in what will likely be the final big move of his career. I want to be happy at Zenit, and in Russia too, he told the clubs official website. I want to work in that direction: to get victories and win many titles, just like it was in Porto.
He will have his work cut out in order to prove as successful in Russia as he was in Portugal.
And the move has raised a few eyebrows amongst a European football media that harbour some trepidation about Russias latest big import. Suggestions that he could not quite do it on the big stage have been fairly commonplace throughout his time in Portugal as were the I dont see what all the fuss is about comments from typically parochial English-language commentary teams on Champions League nights. While he is capable of beating three defenders and hammering one in the top corner, Zenits new man appears equally capable of sending one into row Z and often does. He could be infuriating. And he often was.
But you always had the feeling that there was a something genuinely quite special there. And over four years in Portugal we have seen that something blossom. The top players are defined not by their abili ty, but the way in which they put it to use. Decision making is what wins football matches; Hulk seemed for too long to repeatedly make bad decisions. For someone blessed with such pace and strength, it appeared counter-intuitive that he would slow the ball down, stand his defender up, and attempt to gain a half a yard with trickery before smashing a long-range strike at goal.
The past couple of seasons, however, have seen a significant improvement in the 26-year-olds decision making, and in the application of his many attributes. Brazil coach Mano Menezes has faith, and has Hulk earmarked as a key member of his World Cup 2014 project.
With hindsight, Chelsea and Tottenham may well see Hulk as the one who got away in the summer of 2012.
The new Zenit man would have been a perfect fit for the Premier League due to his physical gifts, and Andre Villas-Boas' arrival at Chelsea last summer was predicted by many to herald the Brazilian's arrival at Stamford Bridge. However, a relatively tame transfer window from Roman Abramovich saw the former Porto boss unable to sign the man who had proved so pivotal to his treble-winning side in the season previous. Juan Mata arrived as the Blues struggled to find a system to accommodate Fernando Torres and Didier Drogba.
Villas-Boas' move to White Hart Lane following Harry Redknapp's acrimonious departure earlier this summer saw similar talk of Hulk's potential arrival in north London, though the Portuguese was quick to downplay the link in June, focusing his attentions on the attacker's team-mate Joao Moutinho as cover for Real Madrid-bound Luka Modric.
Chelsea maintained their interest in the Campina Grande man during this summer's window, with Roberto Di Matteo bemoaning his side's lack of attacking options only nine days before the August 31 deadline.
Spurs and Chelsea will no doubt consider what might have been if Hulk, as is expected, flo urishes in Russia, though the Premier League as a whole will be saddened not to have secured one of the game's most explosive forwards.
Follow Rupert Fryer on