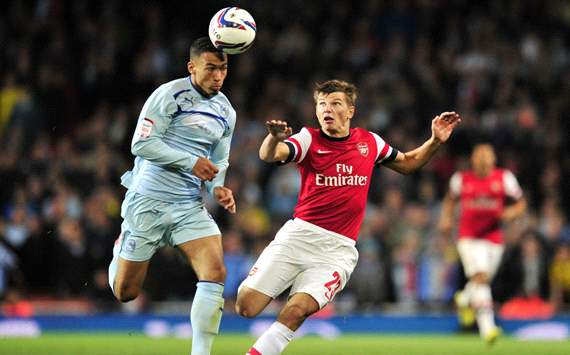 It was only a matter of time before Olivier Giroud got on an Arsenal scoresheet, while a steadily-improving Theo Walcott was never going to endure too barren a patch in front of goal. In contrast, last nights re-emergence of Andrey Arshavin at the Emirates would have been foreseen by very few.
Having spent the second half of last term on loan at Zenit St. Petersburg and the whole summer hawked around a variety of European clubs, even Arshavin himself would have been forgiven for expecting another dismal season in north London.
On his first start of the season, however, the mercurial Russian ran the show as the Gunners romped to a 6-1 win over League One Coventry and offered a hope that there might yet be a glittering swansong to his Arsenal career.
In a game Arsenal dominated, Arshavin was at the heart of all Arsenals attacking endeavour. The Russian started the sweeping move that led to Girouds opener and won the second half penalty the Fre nchman then fluffed.
He teed up Alex Oxlade-Chamberlain for Arsenals third, scored the fourth himself after gracefully plucking Girouds lofted pass out of the air and prodding home and completed an impressive evening's work by plonking the ball straight on Ignasi Miquels head for the fifth.
"His best position looks to be behind the striker now, Arsene Wenger noted after the match. That's where his vision and creative side of game becomes most efficient. When he is central, he can influence the game.
Arshavin did not merely influence the game, he dominated it - the change in his output remarkable when tasked with unlocking defences tucked in behind a centre forward, rather than shuttling back and forth on either flank.
With the passing swagger the Gunners have rediscovered this year a consequence of the flourishing partnerships between Mikel Arteta and Santi Cazorla in the middle of the park Arshavin has surely stumbled across the ideal scena rio from which he can force himself back into Wengers reckoning.
With a variety of neat flicks, round-the-corner balls and deft touches, the artful manner in which Arshavin orchestrated proceedings last night points towards a potentially mesmeric partnership with Arteta and Cazorla, with firepower supplied by Giroud, Walcott, Lukas Podolski, Oxlade-Chamberlain and Gervinho.
Of course, few Gunners fans will need reminding that the Russian has enjoyed false dawns before and one match, against opposition who are rapidly plummeting down the football league ladder hardly represents a renaissance.
Yet, this was an opportunity seized and healthy competition in a squad that is gaining momentum following a seven-match unbeaten run in all competitions this season is nothing but a massive bonus for Arsenal.
If Arshavin can follow up last night's display with a performances even a fraction as potent in both the Premier League and the Champions League, he could prove an invaluable asset to the club in a season where many had totally written him, and them, off.
With two very indifferent years behind him, this could well be the last chance Arshavin has to salvage a reputation the playmaker previously had as one of Europes finest before joining the north London club.
He will still be dependent upon both his own temperament and Wengers trust in him to execute in more important matches but with last night's show-stopping 90 minutes under his belt, Arshavin has proved himself a viable option in a role in which he has found scant opportunity before.
Chelsea this weekend may be too big, too soon for the Russian but with the Gunners facing three matches in a week from Saturday, it would be criminal for Wenger not to give last nights key man another go.