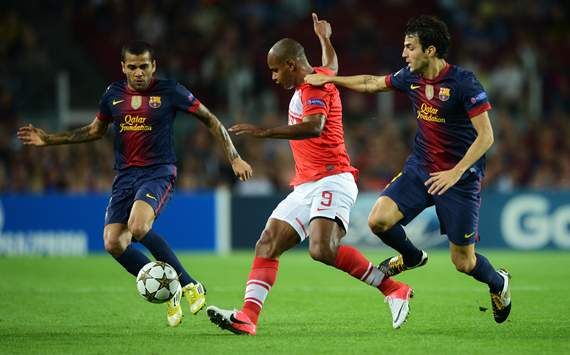 COMMENT
By Ben Hayward Spanish Football Writer
It started with a win. Tito Vilanova's team kicked off their Champions League with victory at home to Spartak Moscow on Wednesday, coming from behind to win 3-2, just as Real Madrid had done 24 hours earlier against Manchester City. As usual, Barcelona's midield was majestic, and their attack astonishing. But it was hard to make a case for the defence.
Carles Puyol and Gerard Pique are two of the world's best centre-backs, but when they are missing, it shows. The Barca captain is sidelined with a knee injury and unlikely to return for over a month, so when Pique departed with a knock in this game, it left the Catalans with a back line made up of Dani Alves, Alex Song, Javier Mascherano and Adriano. No wonder Victor Valdes looks nervous.
Alves spends most of his time in the opposition half as an unorthodox winger and handed Spartak an equaliser as he inexplicably turned the ball past Valdes, while Mascherano's lack of pace had allowed Emmanuel Emenike to escape down the right in the first place. Song, to his credit, did a decent job after coming on for Pique but picked up a yellow card and is not a natural defender. Adriano, meanwhile, allowed Romulo to waltz past him on the way to the Russians' second goal, which saw the visitors lead 2-1 before Lionel Messi struck twice to turn it around. It was a sorry show from the Barca back line.
With Jordi Alba missing through illness and Eric Abidal still making his way back from a liver transplant, Barca were admittedly short of numbers at the back, but the Catalans missed a golden opportunity in the summer to bring in a defensive reinforcement. Having suffered similarly last season with Mascherano falling short in the big games, Sergio Busquets and even Thiago asked to fill at the back at times, it is a lesson they should have heeded.
The priority, then, should have been to b ring in a centre-back, especially as Marc Muniesa picked up a serious injury in pre-season and will be sidelined for around six months.
Barcelona have looked virtually flawless in La Liga this term, but Mascherano and Pique were shown up against Real Madrid in the Spanish Supercopa and Chelsea highlighted the Catalans' troubles at the back in last season's Champions League semi-final. Away from home, Guardiola's side were given plenty of problems too in 2011-12, and much of that was down to their makeshift back line. In the end, 18 points dropped on the road cost them the title. Nevertheless, the problem has not been properly addressed.
Alba's arrival is a positive step, while Mascherano has adapted amazingly, but this summer the Catalans could have signed a specialist. Thiago Silva moved to Paris Saint-Germain from AC Milan but, given the chance, he would have moved to Barcelona. Instead, Vilanova signed Song, a midfielder who can play at the back. Wit h Mascherano able to revert to his role as a defensive midfielder and Thiago back from injury, though, surely it would have been wiser to recruit an actual defender.
Tactically, Barca like to field footballers who are comfortable on the ball and who can operate in a number of different positions, but if the Guardiola and Vilanova sides have one fault, it is the insistence on playing midfielders in defence. At this stage, it seems like a tactical obsession gone too far.
Against Spartak at home, they got away with it. But against superior sides later in the competition and even in La Liga, they may not. Yes, all is well when Puyol and Pique are in the team, but the former is available less and less, while the latter has had his dips in form and problems with injuries, too. An alternative is needed - a specialist defender.
If they have luck with injuries and players return for the big games, Barca may get away with it, but if not, failure to sig n a specialist centre-back in the summer could cost them the biggest prizes - just like it did last season.
Follow Ben Hayward on